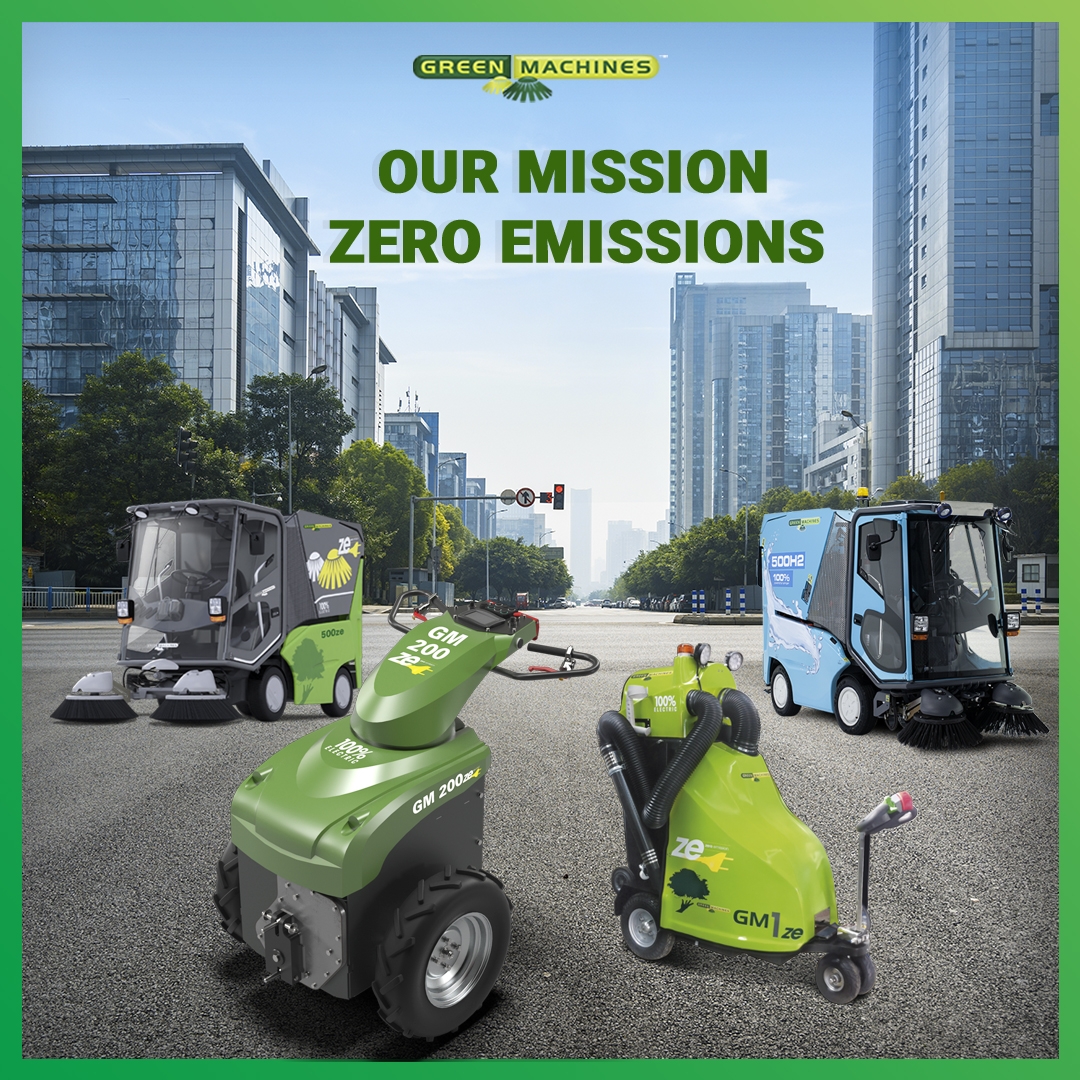 We're more than happy that the "ze" in our portfolio keeps on expanding! We add the "ze" next to our fully electric machines' names in order to emphasize that they're a zero emissions product and the only zero emissions product that doesn't have a "ze" in our portfolio is the 100% hydrogen sweeper GM 500 H2 because it's the first and only one of its kind. 😊 Plus, it's self-explanatory that it is a zero emissions product since it runs 100% on hydrogen. But, since we recently added a new zero emissions product to our portfolio, let's so a brief overview of what makes each machine special and unique!
Our current zero emissions portfolio comprises 4 machines: GM1ze, GM 500ze, GM 500 H2 and the latest innovation – GM 200ze. The first three are sweepers, while our latest ze product 200ze is a two-wheel tool carrier that can be a sweeper, but you can actually turn it into whatever you want! Keep reading if you're interested! 😊
The GM 200ze is a zero emissions, zero noise and zero vibrations two-wheel tool carrier allowing it to be used 24/7, all year round, from the cold Nordics to the hot Bahamas! It can be used both indoors and outdoors and it has a universal attachment adaptor in the front that allows it to connect to all types of attachments already present on the market. The attachments are already out there, it's the fully electric 200ze that was missing. You can add all the attachments you can think of and turn it into a snow plough, snow blade, salt spreader, lawn mower, a harrow, weed remover, surface conditioner, a beach cleaner, sweeper, leaf blower or whatever you want! The list is endless!
GM 500H2 is the world's first-ever hydrogen fuel cell sweeper. It runs 100% on hydrogen and it comes in two types: 1. With a cartridge system that uses H2-PODs and allows you to use this machine even if your city lacks H2 refueling infrastructure. You just replace the empty pod with a full one and that's it. 2. The second type is with a fixed hydrogen tank system that can be refueled in just a few minutes. This is the perfect solution if your city already has H2 refueling infrastructure in place. The 500 H2 is small, compact, safe, sustainable and offers superior cleaning and dust control. It's one of the most comfortable sweepers on the market, offering maximum comfort while working. A 100% hydrogen-powered sweeper, with zero emissions, zero noise and a lot of advantages that no other machine can offer!
GM 500ze is a truly stellar product and the world's first-ever fully electric sweeper! The 500ze represents a milestone in this industry, not only in our company, because it's been present on the market for over a decade while other companies still try to figure out a way to produce an electric machine. The GM 500ze is small, compact, swift, fully electric (equipped with a Lithium-Ion battery), eco-friendly and designed with the operator in mind. Everyone who's used this machine says it's the best because its special ergonomic design offers the operator superior comfort combined with excellent cleaning performance. You can get your 500ze with a single or double battery pack, offering you 8 hours or 16 hours of operating time.
GM1ze is the perfect solution for efficient waste removal. It's fully electric, small, smart, clean and it's got special narrow design that allows it to be used anywhere around the city, even in the busiest areas with crowded narrow streets. It's got maximum operating time between 8 and 16 hours (depending on use) and it's predestined for low noise areas because it's almost completely silent.
We're very proud of our zero emissions portfolio and the versatility we offer because every one of these products is truly unique. If you're thinking about purchasing an eco-friendly product and you need help deciding what's best for you, your city or your company – feel free to contact us here on our website www.greenmachines.com or send us an email at office@greenmachines.com and we'll answer all of your questions!