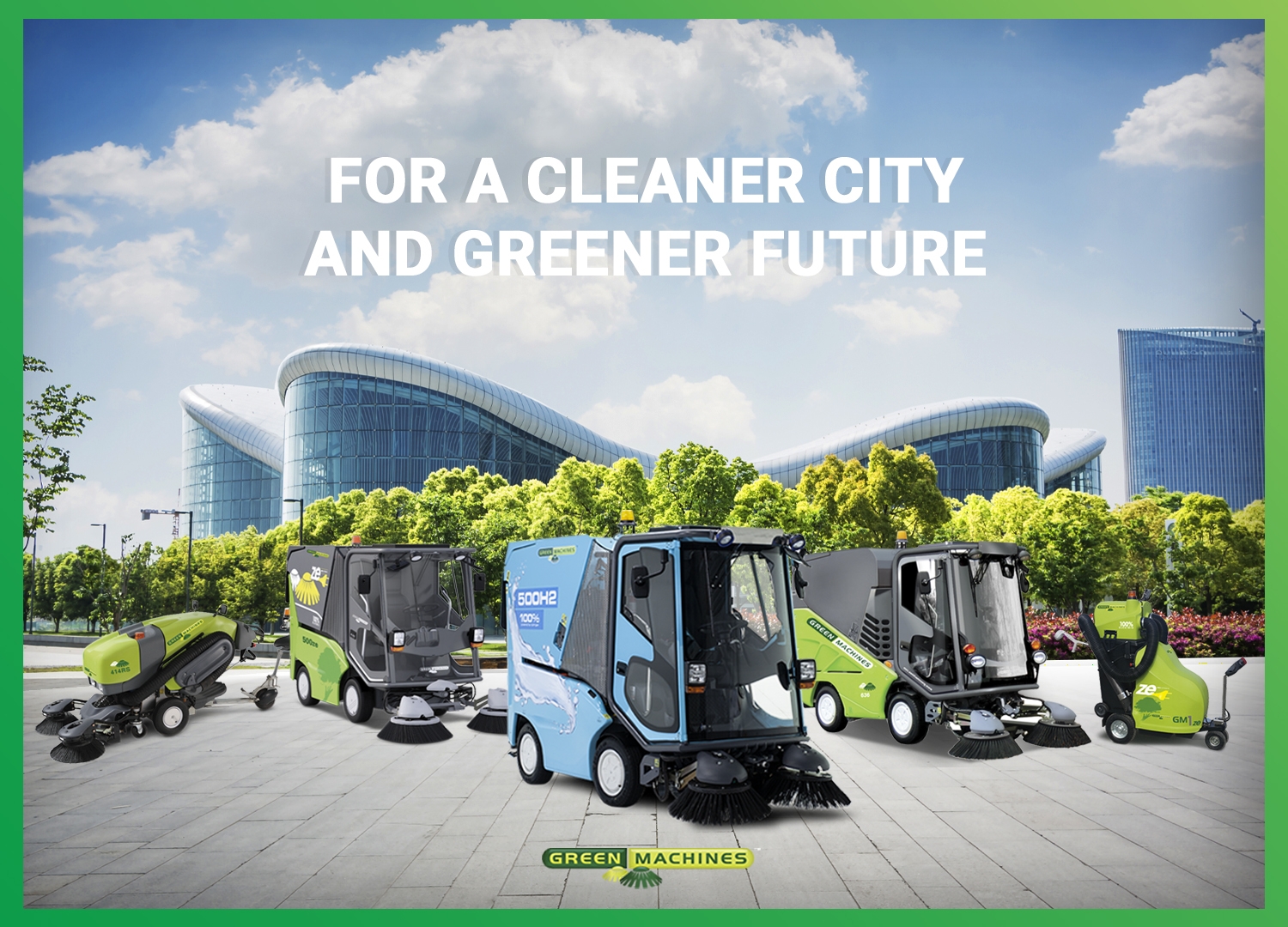 We're constantly talking about the new products, the technology we're developing, our vision and our never-ending endeavors to introduce cutting-edge technology on the market. But, in order to understand why we and our valued customers believe in our products so much and why we know our machines are your best choice; you should learn more about us! 😊 Let's take you on a walk down memory lane and tell you what you should know about us!
Green Machines was founded back in 1965 in Scotland and we can proudly say that we're among the first manufacturers of sweepers in the world. Our very fist sweeper was a walk-behind machine which looked like a huge vacuum machine for outdoor use. That being said, we have over 55 years of manufacturing experience and we possess the knowledge and expertise that allows us to always lead the way in our industry. We're no strangers to introducing new technology to the market because our vast experience allowed us to learn more about the market itself directly from our customers and the end-users i.e. the operators of the machines. Who knows better than the ones actually using the machines every day? 😊 We've never taken for granted the opinion of the operators because we learn from them and improve our products in a way that helps them do their job better, while ensuring that we're not harming the environment during the process.
Now, let's list some of the most important dates in our history:
Back in 1980 we developed our sweeping technology & established fixed price maintenance offering in the UK
In 1990 we established sales organization through distribution for the US and expanded our sales from the UK to Germany and France.
In 1992 we launched our first 400-series model and a few years later it was featured in Star Wars – Episode I: The Phantom Menace. So, yes, the 400-series model is kind of a celebrity, famous even in a galaxy far, far away. It was so futuristic and ahead of its time and if being in a SW episode doesn't prove that, then what does? 😊
In 2000 we introduced the first cab-over sweeping machine 525HS and the advanced cab-over sweeper 636HS
In 2010 we introduced the world's first-ever lithium-ion electric sweeper GM 500ze. This means that we have over a decade of experience in producing fully electric sweepers and we have more electric sweepers operational on the market than any other manufacturer.
In 2012 our GM 636 was featured in the third film from the Men in Black series. So, that means the 636 is also a Hollywood film star. Another machine model that is ahead of its time. 😊
In 2013 we updated our 636 and relaunched the new and improved version.
In 2016 we launched the fully electric GM1ze and GM 500ze lite.
In 2018 the ownership changed and production moved to North Macedonia.
In 2020 we launched the world's first-ever hydrogen fuel cell sweeper – GM 500 H2. Like that we became the first OEM in the world that offers mass production of hydrogen fuel cell sweepers.
In 2021 the first operational GM 500 H2 started cleaning the streets of Utrecht. 😊
Sounds good so far? 😊 Let us name a few other important things you should know about us:
We launched the first high-speed 1m3 machine and with it we created a whole new market for fast-moving, agile sweepers.
We were the first to introduce a walk-behind sweeper for the outdoor city center to reduce emissions and noise levels.
We were the first with a patented water-saving atomizer on our sweepers that reduces water consumption by more than 70%.
We were the first to introduce as OEM a fully electric Lithium-Ion powered city-cleaning street sweeper and the world's first-ever hydrogen fuel cell sweeper.
In 2021 you can expect new products that will also be real head-turners. Unique and unmatched. 😊
As you can see, our rich history, knowledge and expertise allow us to be ahead of the competition because not only we've been doing this for quite some time, but we also know what we're doing. We strive to achieve our vision by executing excellence in being the first in bringing new products and innovations to the market that will change the way we think and work. We strive to develop and produce sustainable sweeping machines combined with excellent performance for a better world. Our vision is often far from the traditional approach but we are proud to take leadership in paving the path to an emission-free world.
We hope you liked our walk down memory lane and learned a few new things you should know about us. 😊 Check our news section here at www.greenmachines.com regularly to never miss an update and contact us if you need more information about us, our products or services.