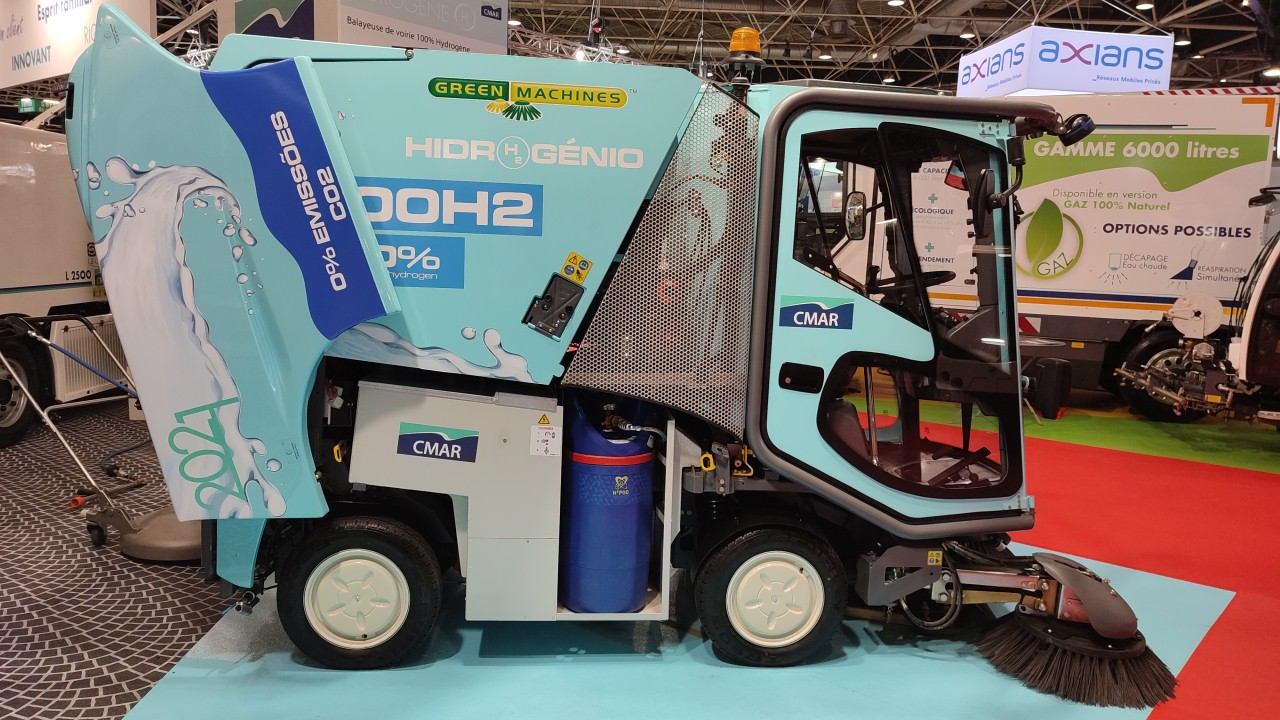 As we're slowly approaching one year from the launch of our 500 H2 – the world's first hydrogen fuel cell sweeper, we can freely say that this has been a really busy year for our hydrogen sweeper! Our 500 H2's visit at the Pollutec Lyon Expo this month was the latest of the many tours, demos and exhibitions our sweeper had the past year. Back in November 2020 we presented our 500 H2 for the first time completely digitally and since then we have managed to organize several tours around Europe to give people the chance to see this amazing sweeper in person. We're very happy that we managed to organize all these tours, demos and expos, despite all the restrictions and the difficulties we've all been encountering this past year and a half.
As you already know, the 500 H2 is the world's first-ever hydrogen fuel cell sweeper, it's completely eco-friendly and runs 100% on hydrogen. It is one of the products we're most proud of since it features groundbreaking technology that no one else has caught up to yet. After our highly successful French tour, Portuguese tour in the Municipality of Lisbon, Almada, Cascais and in the Algarve, and our Germany tour on Borkum, we managed to give our 500 H2 a new opportunity to shine at the Pollutec Lyon Expo this October. Together with our esteemed French dealer – CMAR, we organized the 500 H2's appearance at this expo and we're really excited that we got to be part of this happening. As you all know, Pollutec is recognized today as the reference meeting place for environmental professionals. It is also a platform for environmental solutions for industries, cities and territories, and a springboard for innovations and international development. This is precisely why it was our pleasure to be present at this event.
We have to give credit to our partner CMAR for the wonderful organization, the booth setup and the material preparation they did for this expo and to congratulate them on the preparedness to answer all the questions the potential customers had. They believe in our product and this technology and they were selflessly sharing their knowledge and making people aware of all the benefits of owning a 500 H2.
500 H2's visit at the Pollutec Lyon Expo was the perfect opportunity to showcase the machine in front of a new audience that appreciates green technology and understands the advantages of investing in this type of technology. It was a very successful event and we're proud that we were a part of it.
Scroll down to see the photos we took during our 500 H2's visit at the Pollutec Lyon Expo and feel free to contact us if you have any questions about the 500H2 or any other machine we have in our portfolio. Demos can always be scheduled, although right now it's a little more challenging to organize them as fast as we could before the pandemic, so make sure you contact us in time! 😊 Reach out to us through the contact forms here at www.greenmachines.com or send us an email at office@greenmachines.com – we'd be happy to help you and your city go green!