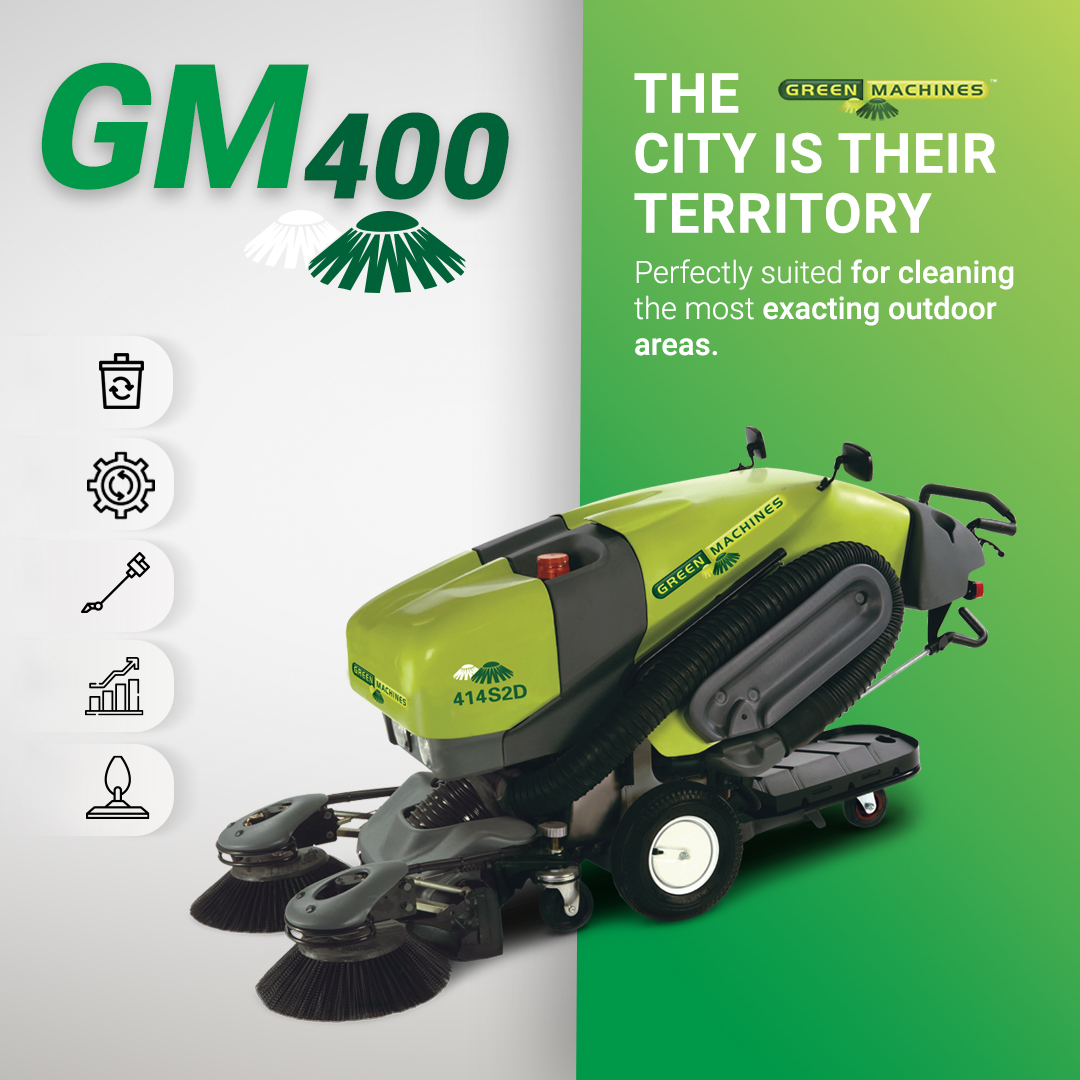 Everyone that has seen one of our 400-series models in action claims that they are the best small sweepers in the world! J Don't just take our word for it, check out the product section here at www.greenmachines.com to learn more about this sweeper or keep reading to find out why everyone loves our 400 series! 😊
The 400-series sweepers boast over 40 years of development experience and features that exploit the latest technical facilities. They are perfectly suited for cleaning the most exacting outdoor areas and can withstand maximum strain in everyday operation. This series offers 3 different upgrades that can turn the standard machine into a totally different one!
The 400 series models are very easy to operate and the innovative design with exceptional maneuverability offers the operator the ability to clean even those hard-to-reach places in the city. What's even more interesting about this series is that these machines reduce the volume of waste with their 3-to-1 debris compaction system. On top of that, this series has such low noise levels and it is so people-friendly that everyone enjoys operating them anywhere around the city, throughout the whole day!
However, one of the most interesting facts about our 400 series, which proves that it was produced way ahead of its time, is that the 400-series model is a film star! 😊 We have bragged about it in the past, but why not tell this story again. Since we're all very much interested in technology here at Green Machines, it comes as no surprise that one of the most memorable moments in our history was when the famous film director George Lucas decided to feature our very own 400-series in one of the greatest sci-fi franchises of all times – Star Wars! Yes, this machine was a Naboo N-1 Starfighter Refueller in Star Wars Episode I: The Phantom Menace! 😊 Green Machines produced the first 400-series model in Scotland and these machines soon became present everywhere in the UK. So, one day, while George Lucas was working on The Phantom Menace, he was strolling near the Buckingham Palace in London and he noticed the machine that was cleaning the street – our very own 400-series machine! He thought it looked so futuristic that he decided to feature it in a scene of his latest film. And that's how our machine became a Hollywood film star and is now famous even in a galaxy far, far away.
Our machines have always been at the forefront of innovation and ahead of their time, but if you're still not sure why everyone loves our 400 series, please contact us here on our website or send us an email at office@greenmachines.com and give us a chance to answer all of your questions! 😊