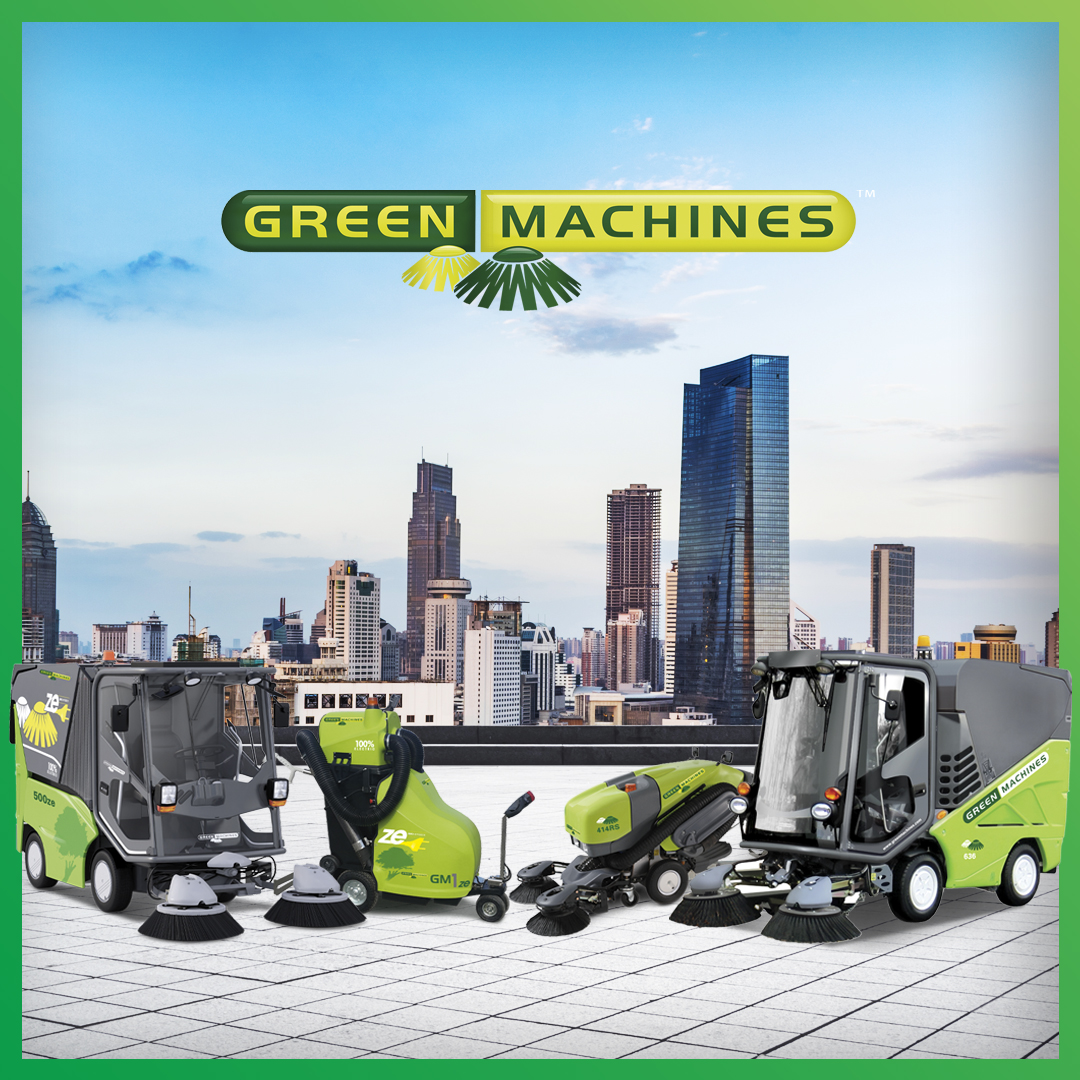 You must be wondering, what makes our products different? Well, first of all, we have extensive experience! Green Machines is amongst the oldest manufacturers of sweepers, dating back to 1964 and having its roots in Scotland. The very first machine was a walk-behind machine. Something that could be described as a huge vacuum machine for outdoor use.
It was 20 years later that we moved from petrol to diesel-powered machines. And, offering functionality only was no longer "acceptable" which means the design of the machines took on a much bigger role. It was in 1992 that we launched our first 400-series model. It was that futuristic that it played its own role in Star Wars: Episode I – The Phantom Menace.
Green Machines also launched the very first high-speed 1m3 machine. While large machines with all their drawbacks were still used to clean city centers, Green Machines created a market for fast-moving, small, agile sweepers. This idea was raised by the city of Paris that came up with this "request." And 25 years later it is common to clean the streets with flexible, small, fast-moving sweepers.
Our current product portfolio can meet all your needs when it comes to keeping your city clean and green. Currently, our product range encompasses the following machines: GM1ze, 400, 500ze, and 636. What makes our products different is that each machine is unique and is the result of decades of development and technological advancement.
The GM1ze is a revolutionary refuse sweeper that makes brooms, pickers, and refuse pushcarts a thing of the past. This compact machine saves time thanks to the powerful storage battery. Plus, it's easy to operate and it enhances hygiene and safety!
The 400-series sweepers boast over 40 years of development experience and features that exploit the latest technical facilities. They are perfectly suited for cleaning the most exacting outdoor areas and can withstand maximum strain in everyday operation. This series offers 3 different upgrades that can turn the standard machine into a totally different one! They are very easy to operate, reduce the volume of waste, and can clean even those hard-to-reach places in the city.
The 500ze machine is our stellar product. It is electrically operated with zero emissions, uses the latest generation of lithium-ion batteries, produces almost zero noise, offers a superb ergonomic design, and can be customized any way you like! It is created for a cleaner city and a greener future. The 500ze is in fact the world's very first, fully electric Lithium-Ion powered street sweeper. With hundreds of machines operational around the world, Green Machines remains unrivaled with its electric sweepers.
The 636 model is a really special sweeper. With its sophisticated design details and its ability to considerably reduce water consumption, GM 636 cuts labor and maintenance costs. It offers car-like ride comfort, intelligent one-touch switching between sweep and transit modes, maximum performance, and minimum waste volume. It comes with great accessories and can be upgraded to meet all your needs. Plus, the 636 is also a Hollywood movie star that was featured in the third part of the Men in Black series.
Don't wait any longer and visit our product section www.greenmachines.com/products to get informed about our machines. Don't forget, we have a wide dealership network all over the world, so feel free to contact us and we will connect you with a trustworthy dealer closest to you. Also, follow us on LinkedIn, Facebook, and YouTube since this year we plan to introduce new game-changing technology!