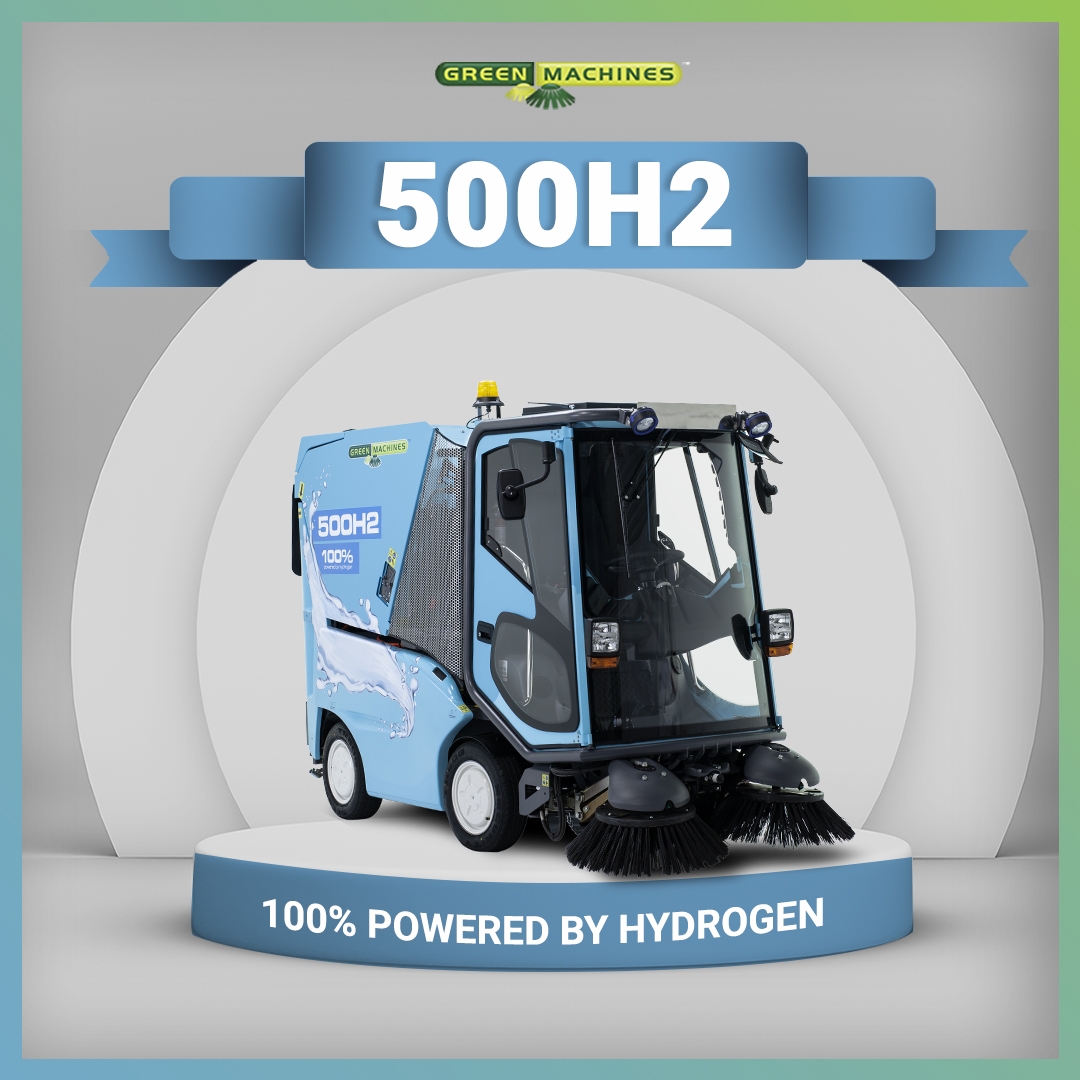 We had been waiting for this moment for far too long and now we can finally introduce you to our latest eco-innovation. Meet the game changer – GM 500 H2, the world's first hydrogen fuel cell sweeper! The most eco-friendly sweeper on the planet with zero emissions that leaves you with no more excuses not to go green!
Our company has always been a global leader with a world-class reputation for creating innovative and technologically advanced outdoor city cleaning equipment. For decades we have been dedicated to minimizing our own impact and maximizing the effective use of resources and we always chose to lead, not to follow. And with our latest innovation, we are leading the world into the future. Our 500 H2 is 100% powered by hydrogen, which is the cleanest zero-emissions fuel, produced from green, renewable resources. The 500 H2's fuel cell converts oxygen and hydrogen into electricity that powers the sweeper and the only by-product of its usage is clean water. Moreover, we are once again leading the way by becoming the first OEM of street sweepers that offers a hydrogen fuel cell in their portfolio.
The best part about the GM 500 H2 is that it's flexible since it also offers another world premiere system: the H2-POD. The H2-POD solves the issue of having to invest in expensive H2 fueling infrastructure. The H2-POD is a flexible cartridge system that allows you to refill the machine whenever and wherever you want. So, there are no more excuses if you lack the H2-infrastructure because the H2-POD offers you the solution to go green. And those who have an H2-infrastructure in place can opt for the 500 H2 with an installed fixed tank, which allows the machine to be refueled in just a few minutes.
Our 500 H2 is built based on its predecessor – 500ze which means it offers the same superior cleaning and dust control, superb ergonomic design and possibility to be customized any way you like. What's more, the owners of existing 500ze models do not have to buy a whole new machine to switch to hydrogen! They can simply request an offer to change the Li-Ion batteries, Light Pack, or Li-Ion Plus type, with a fixed hydrogen tank or with the cartridge system with H2-PODS.
Sounds amazing, we know! But we did promise you months ago that you will meet the game changer – GM 500 H2! Now, the only question is: what are you waiting for?
Watch the short presentation video of our 500 H2 on the following link: https://bit.ly/36rZ2Vu and feel free to contact us at www.greenmachines.com if you need any other information. We'd be happy to answer all of your questions!