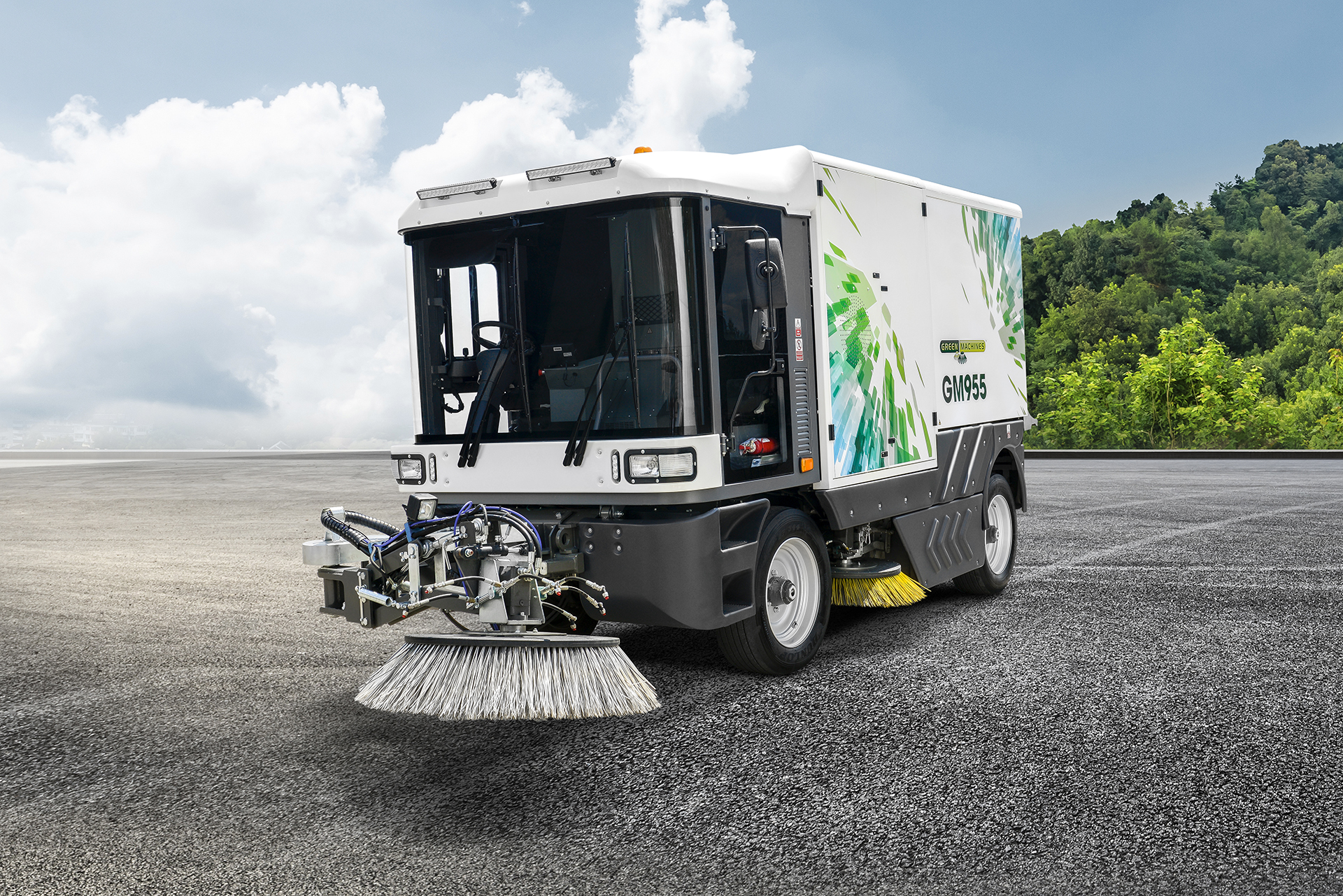 Meet our GM 955 – Green Machines' first 6 m3 mechanical sweeper. The 955 is more than meets the eye. It's a mechanical sweeper supported by vacuum that combines the best of both worlds. Both systems may have their drawbacks, but the 955 overcomes them by joining them together in one machine.
The mechanical part of the system ensures collection of any waste, as large as car tires while the vacuum ensures collection of even the smallest dust particles. Dust may be the main problem with air sweepers, but not with the 955. The vacuum that supports this mechanical sweeper reduces the PM10 dust emissions by up to 99% compared to air sweepers. In dry conditions high air flow of vacuum sweepers results in high dust emissions. With the 955 we get near zero dust emissions. This makes the GM 955 ideal for cities, airports, heavily polluted areas, deserts and many other places all around the world.
On the other hand, since large heavy debris can be collected only by mechanical collection systems, the 955 is also ideal for industrial use. It has an automatic main brush pressure adjustment, reducing wear and improving performance significantly. The net hopper of the 955 is 10% larger than that of its nearest competitor, making it more efficient than anything else present on the market.
We believe performance quality and durability are crucial for our machines, which is why this sweeper is fitted with an industrial Mercedes Benz Engine. Therefore, noise is reduced significantly compared to a vacuum sweeper of a similar size, while allowing it to perform better than any other sweeper from this category.
What's more, all non-essential functions are automated so the operator can focus on sweeping and road safety. The operator's cabin is fully enclosed and soundproofed, equipped with ergonomic seats and state-of-the-art technology in the touch-activated dashboard that allows the driver to manage all controls with just one tap on the touch screen. And don't worry, the 955 can be used in any climate, from dry, hot desert conditions to freezing Arctic temperatures. The GM 955 is strong, powerful, fast and durable, all year round, anywhere you need it.
We wrote this brief blog for you to meet the new GM 955, but there is much more that needs to be said about this revolutionary sweeper, so feel free to contact us through the contact forms on our website www.greenmachines.com or send us an email at office@greenmachines.com and we will answer any questions you may have. You can also watch the presentation video for the GM 955 at the following link: https://www.youtube.com/watch?v=VOkyEk-gzS0