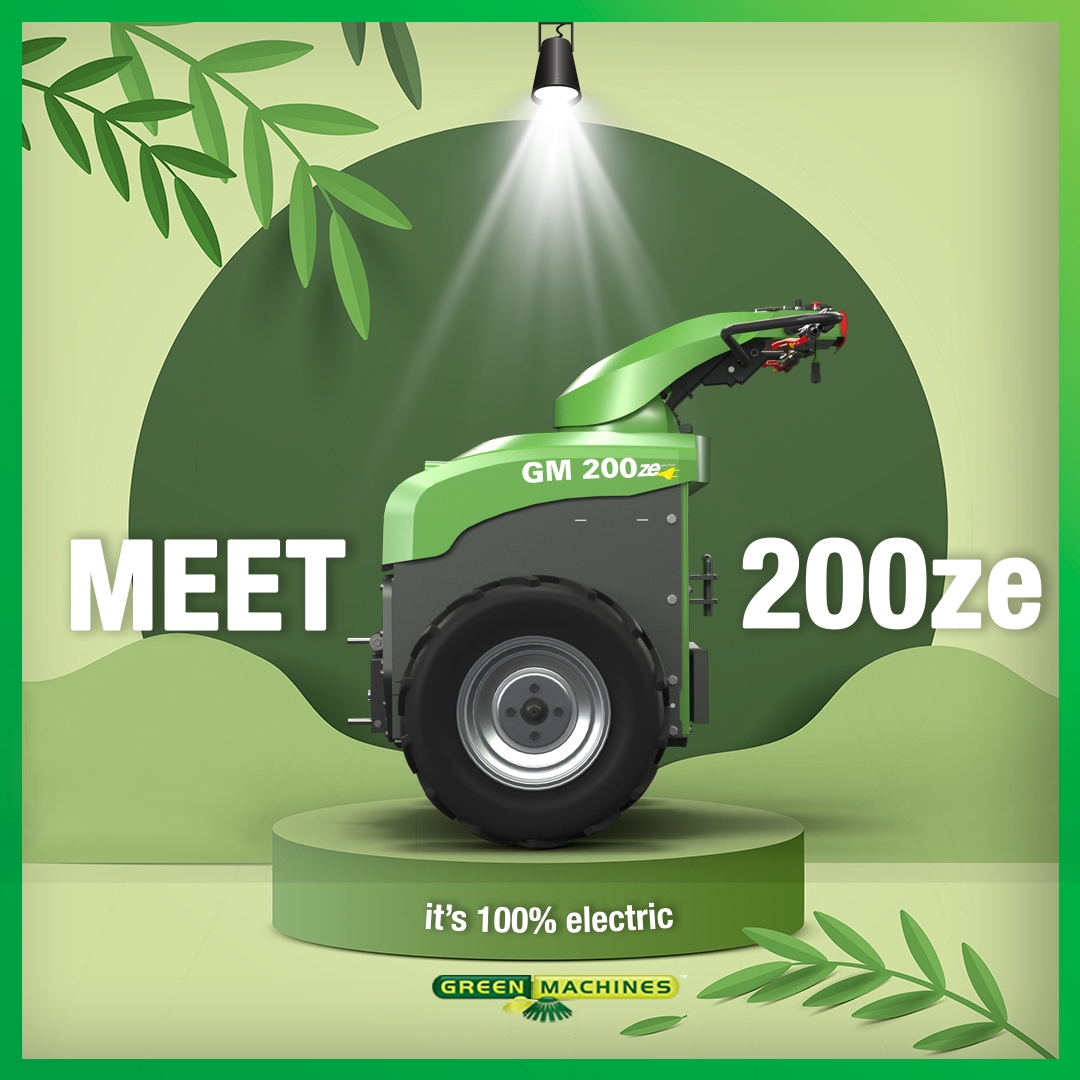 For many years now, Green Machines has aimed to contribute decisively towards cleaner and tidier towns and cities by providing efficient and sophisticated sweeping machines. We launched the world's first-ever fully electric street sweeper and the world's first hydrogen fuel cell sweeper, both of which showcase our commitment and contribution to being the greenest Green Machines in the world. However, a while back we promised to reveal something soon, so here it is! 😊 Meet GM 200ze – our latest eco-friendly product! That "ze" already sounds familiar, right? Because it stands for zero emissions, but what exactly is 200ze and what does it have to offer? More than you could think of!
The GM 200ze is a zero emissions, zero noise and zero vibrations two-wheel tool carrier allowing it to be used 24/7, all year round, from the cold Nordics to the hot Bahamas! This product is the first machine in our portfolio that isn't a sweeper per se, but rather a tool carrier that can be turned into whatever you want, including a sweeper! It has a universal attachment adaptor in the front that allows it to connect to all types of attachments already present on the market. The attachments are already out there, it's the fully electric 200ze that was missing. You can add all the attachments you can think of and turn it into a snow plough, snow blade, salt spreader, lawn mower, a harrow, weed remover, surface conditioner, a beach cleaner, sweeper, leaf blower or whatever you want! The list is endless!
You can use it both indoors and outdoors – car parks, greenhouses, warehouses, city centers, malls, amusement parks, holiday resorts you name it! ­­What's more, you can customize your GM 200ze with a variety of batteries that will allow you to use it for one full day or several days in a row. And it gets better – you can use it as a huge power bank to power other e-tools!
Perfect for everyone who cares about the environment and for all those who handle it on a daily basis. One machine with endless possibilities!
Go to https://www.youtube.com/watch?v=Rlw9OuMUoPE to watch the presentation video for GM 200ze and visit www.greenmachines.com/200ze to really meet GM200ze – our latest eco-friendly product. You can read the brochure, check out its features and download the info. Feel free to contact us and ask us anything you need to know about our latest product, we'd be happy to answer all of your questions!