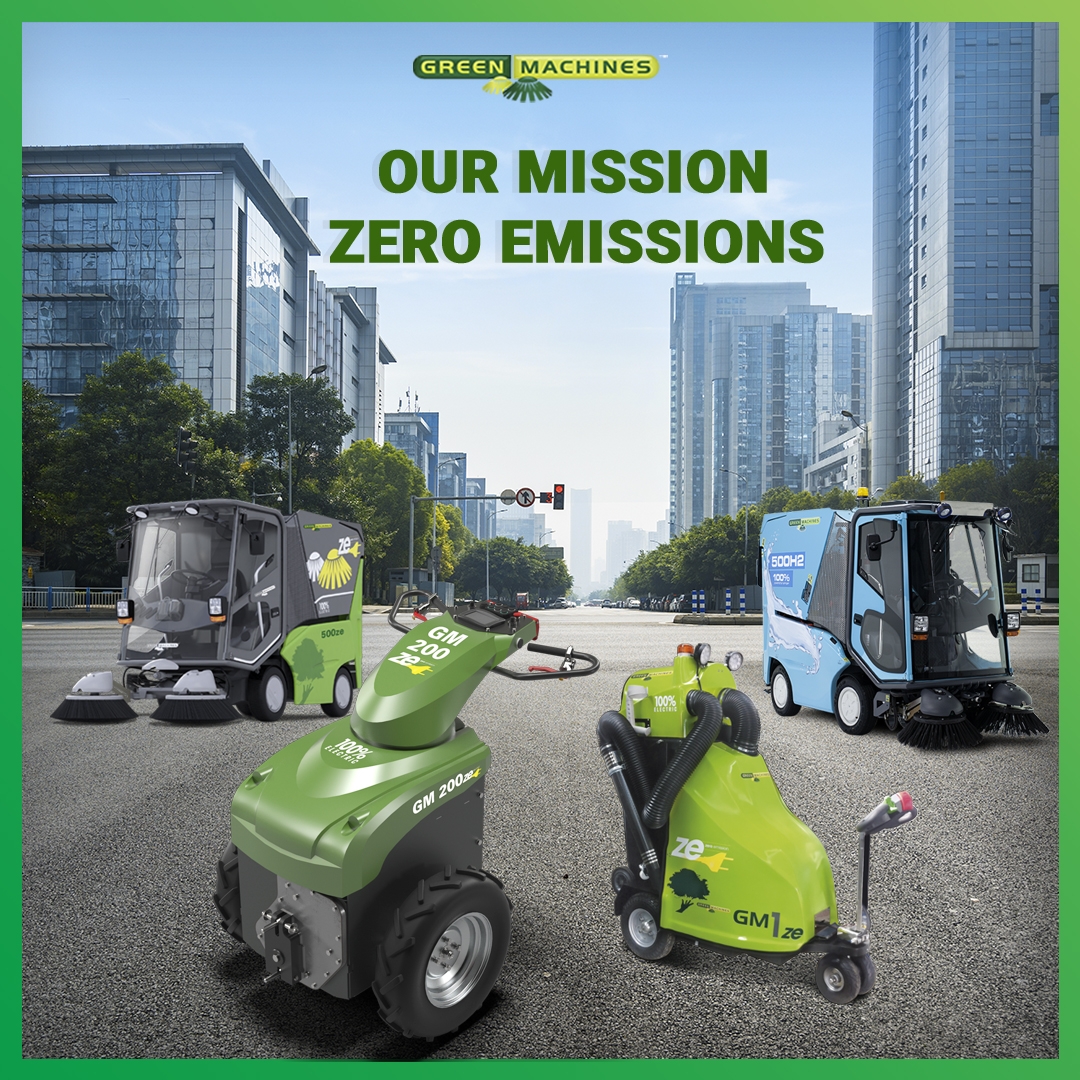 We are among the oldest manufacturers of sweepers and we are focused on developing and producing sustainable sweeping machines combined with excellent performance for a better world. That is why our portfolio offers both hydrogen and battery-powered sweepers in order to meet our clients' needs the best way we can. However, if you're looking for a sweeper and can't decide if hydrogen or battery-powered sweepers are better for your city, keep reading to find out more about the differences between these sweepers offered in our portfolio.
The truth is, whichever option you choose to buy, it won't be a wrong decision because both options are a step forward towards a cleaner and greener future for all of us. Some things may be better now, some may be better in the long run and some may even be the only option in the future, but right now all options are still open and the most important thing is to focus on the eco-friendly technology we have available. Our current portfolio offers 3 products that are battery-powered and 1 that runs on hydrogen.
The GM1ze is a small and compact electric sweeper that is perfect for noise-sensitive areas and you can use it anywhere around the city, even in the busiest areas with crowded narrow streets because it is almost invisible to the pedestrians. The 200ze is our latest innovation and it is a zero emissions, zero noise and zero vibrations two-wheel tool carrier allowing it to be used 24/7, all year round, no matter the weather! It can be used both indoors and outdoors and it has a universal attachment adaptor in the front that allows it to connect to all types of attachments already present on the market. It's 100% electric and you can turn it into whatever you want.
Our 500-series offers two different machines – 500ze which is the world's first-ever fully electric sweeper and it is 100% powered by a Lithium-Ion battery; and the 500H2 which is the world's first-ever hydrogen fuel cell sweeper and runs 100% on hydrogen. Yes, we're very proud of our 500-series. 😊 Both machines offer superb ergonomic design, superior cleaning and dust control, zero noise and zero emissions while operating. The 500ze comes with two battery pack options, while the 500H2 can be ordered with either one of the two different H2 systems: H2 PODS that would be perfect for cities that lack H2 infrastructure; or a fixed H2 tank system that is ideal for cities that have H2 refueling infrastructure. But which option is better for you?
Firstly, it all depends on what you're looking for – versatility offered by the 200ze, quick refueling of the machine offered by the H2 tank or maybe you just want your sweeper to be 100% electric and invisible to the pedestrians and you don't have a problem waiting for the batteries to be recharged for a few hours?
If you wish to have an eco-friendly sweeper that can be refueled in a matter of minutes, and you wish to invest in one of the world's most promising green technology – choose the 500H2. Many countries around the world are focused on strategies for producing green hydrogen because a major benefit of hydrogen is that it can be produced on site rather than being transported like fuel, or supplied through the grid like electricity. This means that the use of hydrogen can be encouraged locally and ideally, the whole energy sector would incorporate hydrogen into the mix, from refueling cars to storing energy for homes. This would be really game-changing for our planet. If your city already has H2 stations in place, the 500H2 is your perfect solution. Even if your city is just now beginning to think about H2 as a fuel, you can still order the H2 machine with replaceable H2 PODS instead of ordering it with a fixed H2 tank!
If you want more than just a sweeper, and you need a machine you can use both indoors and outdoors, but at the same time you want it to be able to endure long working hours, then choose the 200ze! We offer various battery options to suit your needs perfectly, while the machine per se can be whatever you want it to be! It can be a sweeper, harrow, snow plough, lawn mower, rough cutter, anything you want!
If you want your city to be clean and green and you have charging stations available around the city, then we recommend the GM1ze or 500ze! They are very different and would meet specific needs in terms of areas which need to be cleaned with this type of sweeper and the battery endurance that you need. However, they are both excellent when it comes to cleaning power. The GM1ze is perfect for crowded areas and narrow streets, historic sites that are swamped with tourists etc. because of its easy maneuverability. The 500ze is a small and compact road sweeper, it offers superb ergonomic design and makes it ideal for any historic site and streets where the operator needs to work longer hours and still not disturb anything or anyone around. They are both ideal for noise-sensitive areas which helps extend the working hours.
This is just a brief overview of the most unique aspects of our eco-friendly portfolio when it comes to deciding whether you need hydrogen or battery-powered sweepers. However, it is not enough to make a final decision! 😊 Which is why you can always contact us here at www.greenmachines.com or send us an email at office@greenmachines.com and we'll help you decide what the best option is for you and your city!