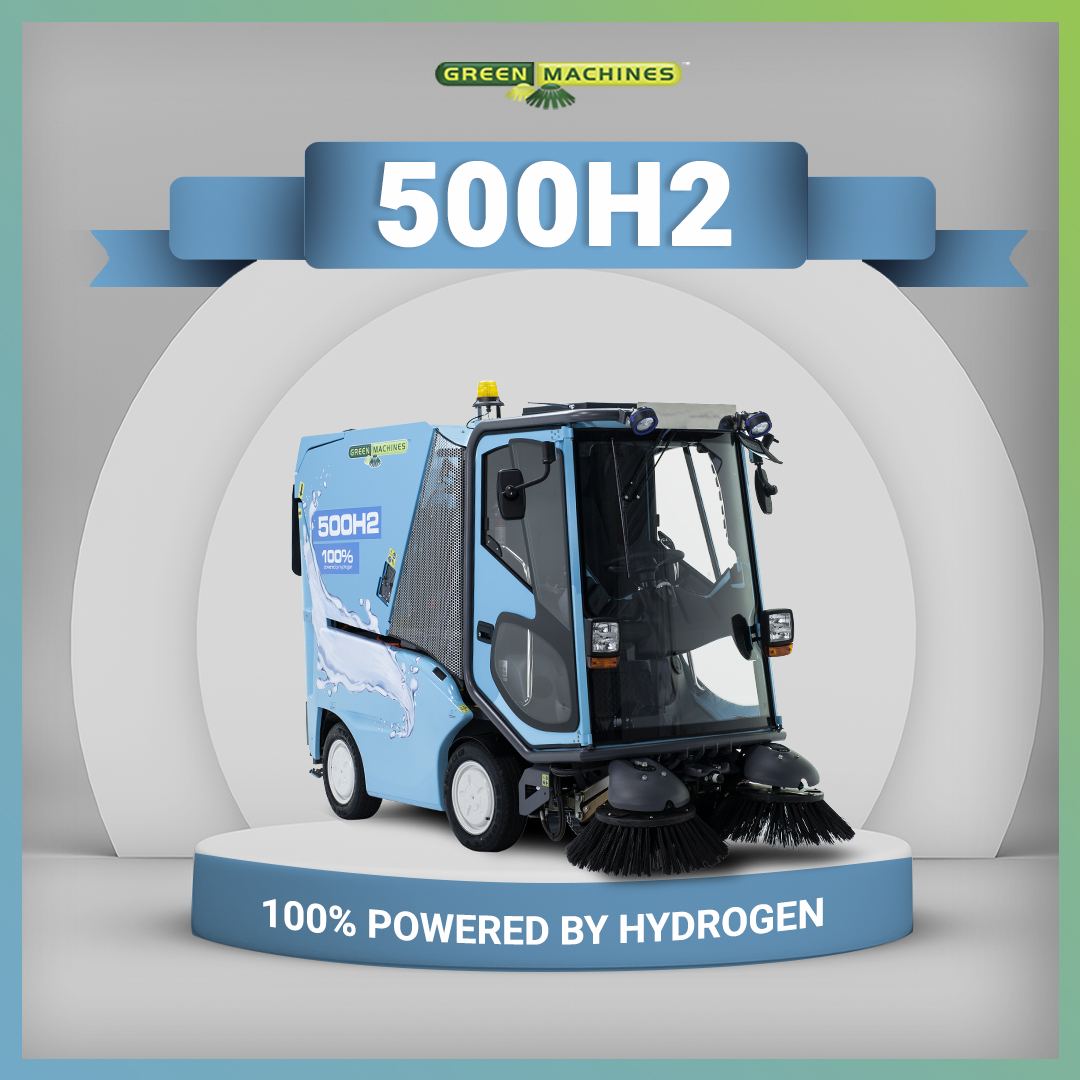 It seems like only yesterday that we launched the world's first-ever hydrogen fuel cell sweeper and we can't believe a year went by so fast! This week we celebrate our GM 500 H2's first birthday so before we brag about it a little, let us just say – HAPPY 1st BIRTHDAY GM 500 H2! 😊
We officially launched the word's first hydrogen fuel cell sweeper on November 11th last year and this sweeper is one of our biggest accomplishments thus far! Our company has always been a global leader with a world-class reputation for creating innovative and technologically advanced outdoor city cleaning equipment. For decades we have been dedicated to minimizing our own impact and maximizing the effective use of resources and we always chose to lead, not to follow. And with our hydrogen sweeper, we are leading the world into the future. Our 500 H2 is 100% powered by hydrogen, which is the cleanest zero-emissions fuel as it can be produced from green, renewable resources. The 500 H2's fuel cell converts oxygen and hydrogen into electricity that powers the sweeper and the only by-product of its usage is clean water. Moreover, we are once again leading the way by becoming the first OEM of street sweepers that offers a hydrogen fuel cell in their portfolio.
What's even more impressive about the GM 500 H2 is that it's flexible since it also offers another world premiere system: the H2-POD. The H2-POD solves the issue of having to invest in an expensive H2 fueling infrastructure. The H2-POD is a flexible cartridge system that allows you to refill the machine whenever and wherever you want. So, there are no more excuses if you lack the H2-infrastructure, because the H2-POD offers you the solution to go green. And those who have an H2-infrastructure in place can opt for the 500 H2 with an installed fixed tank, which allows the machine to be refueled in just a few minutes.
As we mentioned many times throughout the year, our 500 H2 is built based on its predecessor – 500ze which means it offers the same superior cleaning and dust control, superb ergonomic design and possibility to be customized any way you like.
Although last year we presented our 500 H2 for the first time completely digitally, since then we have managed to organize several tours around Europe to give people the chance to see this amazing sweeper in person. We're very happy that we managed to organize all these tours, demos and expos, despite all the restrictions and the difficulties we've all been encountering this past year and a half. Utrecht got the first hydrogen fuel cell sweeper which is cleaning its streets for a while now; we also organized a highly successful French tour a few months ago, a Portuguese tour in the Municipality of Lisbon, Almada, Cascais and in the Algarve, a German tour on Borkum, and we even managed to give our 500 H2 a new opportunity to shine at the Pollutec Lyon Expo this October.
It's been a busy year for our GM 500H2 and we're more than happy that we got to show off this amazing sweeper throughout Europe, despite all the difficulties. The positive feedback we got on all the tours, expos and demos was expected to say the least, but it was really nice to see people experience the 500 H2's excellent performance in real life.
Watch the short presentation video of our 500 H2 on the following link: https://www.youtube.com/watch?v=4dQvzgtKzJc and feel free to contact us here at www.greenmachines.com or by sending an email at office@greenmachines.com if you need any other information. We'd be happy to answer all of your questions!
And once again – HAPPY 1st BIRTHDAY GM 500 H2! We believe in this product and we believe in green hydrogen's potential and its major role in the decarbonization process.