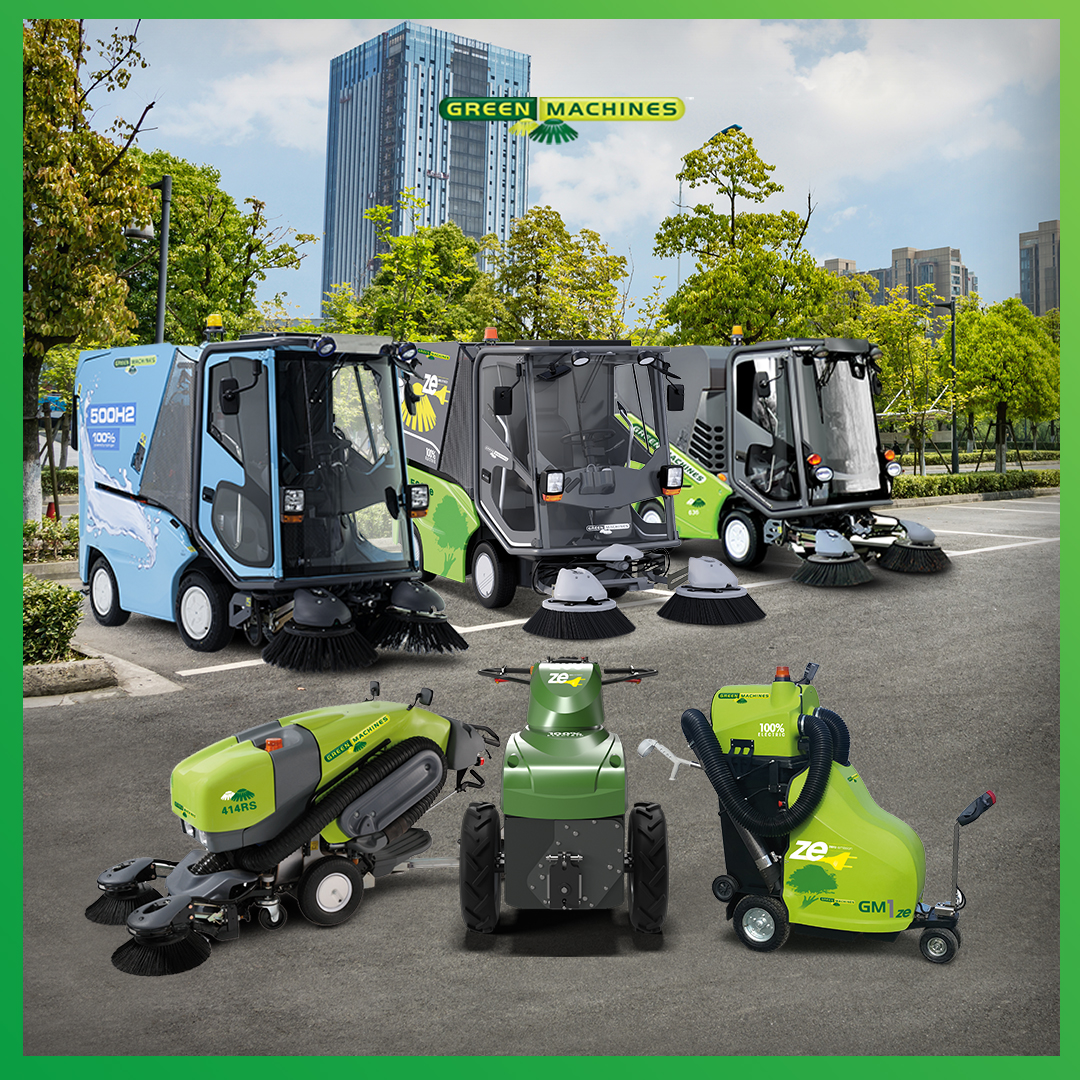 We are among the oldest manufacturers of sweepers and we are focused on developing and producing sustainable sweeping machines combined with excellent performance for a better world. That is why our portfolio offers standard, battery-powered and hydrogen sweepers in order to meet our clients' needs the best way we can. However, if you're looking for a sweeper and can't decide which one would meet your needs perfectly, keep reading to learn more about Green Machines' city cleaning sweepers!
All of our sweepers are compact and swift enough to enable you to clean any urban area around the city with maximum efficiency, without worrying that they will disrupt your citizens. Our machines are purposefully designed in a way that does not impact the normal everyday functioning even of the busiest areas in your city. Our portfolio comprises 6 machine models and each one is unique in its own way. 5 of our products are sweepers, while the 6th one – GM 200ze can be a sweeper but it can also be anything you want! We offer you a wide range of choices by providing solutions that others have yet to catch up to. Let's do a brief overview of our city cleaning sweepers:
– The GM1ze is a revolutionary refuse sweeper that makes brooms, pickers, and refuse pushcarts a thing of the past. This compact machine saves time thanks to the powerful storage battery. Plus, it's easy to operate and it enhances hygiene and safety!
– The 400-series sweepers boast over 40 years of development experience and features that exploit the latest technical facilities. They are perfectly suited for cleaning the most exacting outdoor areas and can withstand maximum strain in everyday operation. This series offers 3 different upgrades that can turn the standard machine into a totally different one! They are very easy to operate, they reduce the volume of waste, and can clean even those hard-to-reach places in the city.
– The 500ze is our stellar product. It's electrically operated with zero emissions, uses the latest generation of lithium-ion batteries, produces almost zero noise, offers a superb ergonomic design, and can be customized any way you like! It is created for a cleaner city and a greener future. The 500ze is in fact the world's very first, fully electric Lithium-Ion powered street sweeper. With hundreds of machines operational around the world, Green Machines remains unrivaled with its electric sweepers.
– The 500H2 is the world's first-ever hydrogen fuel cell sweeper. It's small, compact, swift, offers superior cleaning and dust control and the same highly rated ergonomic design present in our 500ze! The 500H2 runs 100% on hydrogen which makes it operate with zero emissions and zero noise, just like the 500ze. The 500H2 can be used even if your city lacks H2 fueling infrastructure, since it comes in two types: 1. with a cartridge system that uses replaceable H2 PODS, perfect for cities lacking H2 fueling infrastructure; and 2. with a fixed hydrogen tank system that can be refilled in just a few minutes.
– The 636 model is a really special sweeper. With its sophisticated design details and its ability to considerably reduce water consumption, GM 636 cuts labor and maintenance costs. It offers car-like ride comfort, intelligent one-touch switching between sweep and transit modes, maximum performance, and minimum waste volume.
The last machine in our portfolio is the 200ze which is a fully electric two-wheel tool carrier. It can be used all year round, no matter the weather, both indoors and outdoors. The 200ze is not a city cleaning sweeper per se, but it can be! It has a universal attachment adaptor in the front that allows it to turn into anything you want, from snow plough, lawn mower, weed remover to a sweeper and many other things! The list is endless.
This is just a brief overview of Green Machines' city cleaning sweepers which means there is a lot more to learn about each product! 😊 Check out our product section here at www.greenmachines.com to learn more about each model and feel free to contact us through our website or send us an email at office@greenmachines.com so we can answer all the questions you have regarding our products!