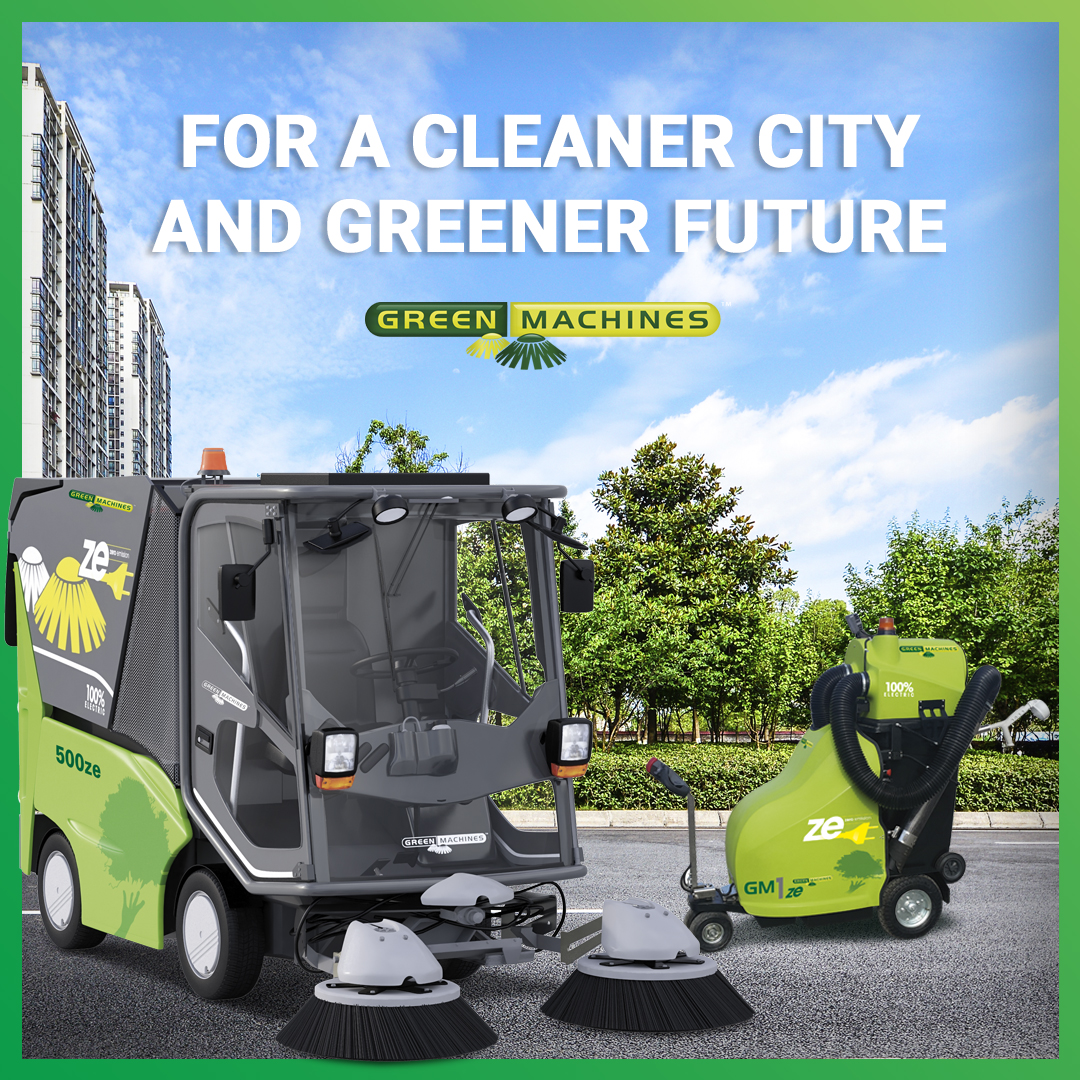 Did you know that there is a meaning behind the "ze" in our GM1ze and 500ze? 😊 The 'ze' stands for zero emissions! We have talked about our eco-friendly machines many times but we believe it is important to emphasize this feature because it has always been our mission to develop and produce sustainable sweeping machines for a better world. We believe that these two products are the perfect choice for a clean and green city, anywhere in the world!
The 500ze model is the world's first-ever fully electric street sweeper powered by Lithium-ion batteries. We like to call it our marathon machine because it offers lasting performance with the latest generation of Lithium-ion storage batteries that last the whole working day at unbeatably low energy costs. This stellar product is electrically operated with zero emissions, produces almost zero noise, offers a superb ergonomic design, and can be customized any way you like! It is created for a cleaner city and a greener future. With hundreds of machines operational around the world, Green Machines remains unrivaled with its electric sweepers.
Our other 'ze' product, the GM1ze, is a revolutionary refuse sweeper that makes brooms, pickers, and refuse pushcarts a thing of the past. This compact machine saves time thanks to the powerful storage battery, it's incredibly easy to operate and it enhances hygiene and safety! It's got a special narrow design and produces almost zero noise, enabling you to move freely and easily around the city and make every single corner sparkling clean! It's got a maximum operating time between 8 and 16 hours, depending on use, and the GM1ze is predestined for low noise areas.
To learn more about our machines with a 'ze' that stands for zero emissions, go to our product section here at www.greenmachines.com/products and contact us for any questions you may have. Subscribe to our social media channels and stay tuned for the new product that we will reveal soon. It's the most eco-friendly product so far, first of its kind, and a true game-changer! 😊 And remember, if you want to go green, choose Green Machines!