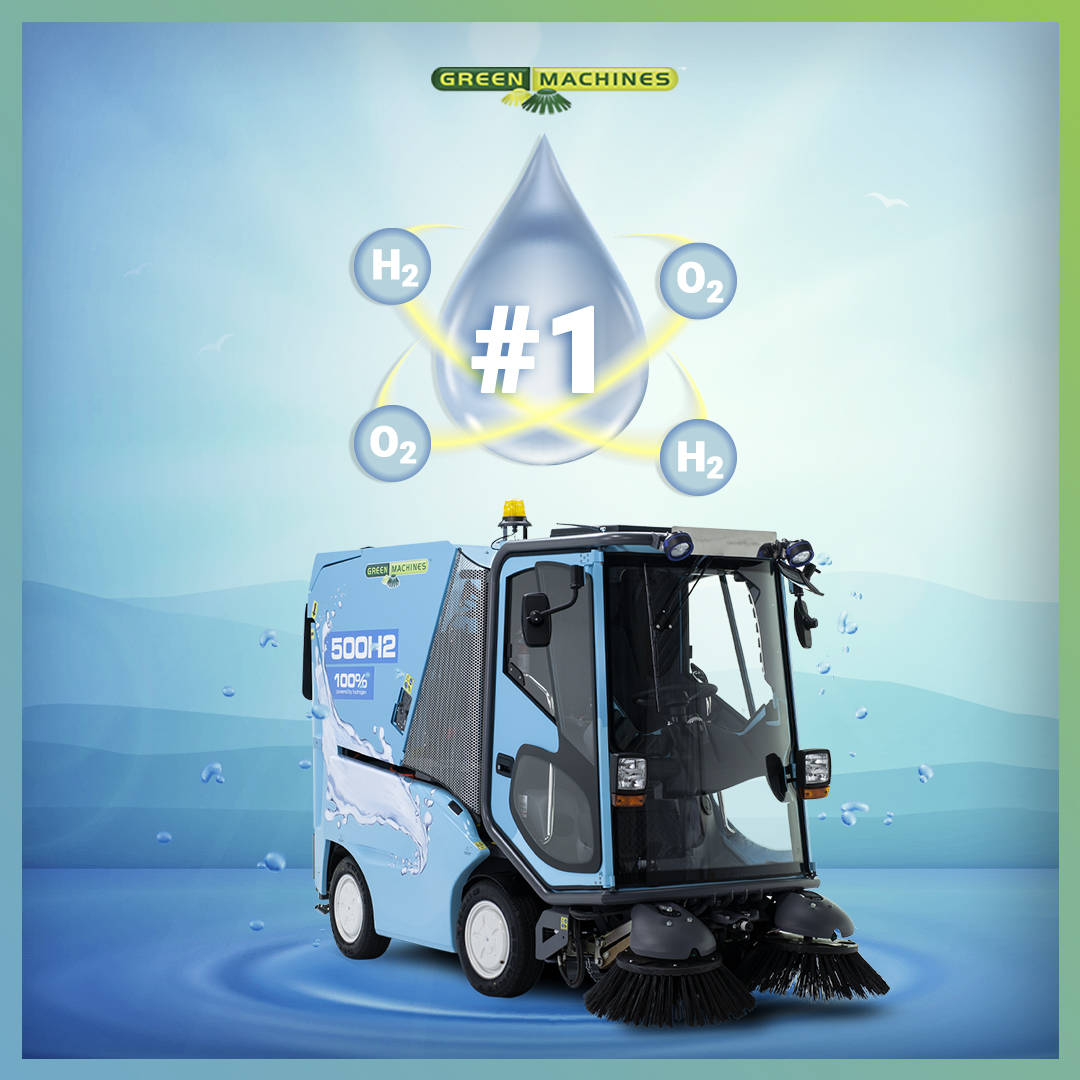 DO YOU NEED A HYDROGEN SWEEPER?
As we already mentioned last week, this month we celebrate our 500 H2's first birthday! Our 500 H2 is the world's first hydrogen fuel cell sweeper it comes with amazing features that can really help your city. Cutting-edge technology, first of its kind and still unmatched by any other sweeper on the market. But, do you need a hydrogen sweeper? Keep reading to learn what makes this machine stand out from the crowd and how it can help your city.
We are aware that hydrogen power is a new technology and only a small number of cities have the necessary infrastructure for refueling the fixed hydrogen tank. However, we also believe every smart city should have hydrogen stations! We can already see that many countries around the world are investing in this green technology and focusing on producing green hydrogen so they can reach their ambitious emissions targets and do their part in the decarbonization process. However, in the meantime, we have come up with a great solution for every city that wants to be smart and wants to go green, even though they lack the required H2 fueling infrastructure. We designed the GM 500H2 with this "issue" in mind and we offer it to you with two different H2 options. The first option is a fixed hydrogen tank system which can be refilled in just a few minutes and it is perfect for your city if you already have H2 infrastructure. The second option we offer is getting the 500 H2 with an H2-POD cartridge system, with replaceable pods that can be easily used in the cities without hydrogen stations or where the transit distances are simply not feasible. This can help your city go green and be smart on a whole new level! The issue of not having an H2 refueling infrastructure is no longer an excuse with our 500 H2!
In addition to that, our 500 H2 is small, light, safe, compact, stable and comfortable for the operator. It has ergonomic interior design and offers superior cleaning and dust control just like our 500ze. Our current clients love the 500 series and replacing a 2m3 sweeper with only one of our 500 H2 removes CO2 emissions equal to 50 cars which could mean a lot for your city! The GM 500 H2 is also cost efficient. It will lower your service and daily maintenance due to the absence of an engine, filters, oil, etc. And if you already have a hydrogen infrastructure in place there are no extra costs for operating the 500H2 except for the fuel costs itself. Plus, refilling the tank (if you do have H2 infrastructure) takes only a few minutes which is a major advantage compared to battery-powered sweepers. Sometimes going green means, you are indeed paying a "green-fee" in the start-up phase, but despite that we choose to lead the way by creating better and sustainable solutions and we are confident that smart cities will follow us to lead by example.
The innovative GM 500 H2 is targeted at local authorities and city cleaning departments for use in city centers, schools, public buildings and parks but will also enable major retailers to achieve their ambitions for lower carbon footprint. Fundamentally these working machines operate in and on pedestrian precincts and areas, so they are 'people friendly'. They are designed to be 'invisible' and almost completely silent, which extends the working hours to later in the day or night. We already organized many tours, demos and expos for our 500 H2 around Europe and everyone who got the chance to see this amazing sweeper live has had the same positive reaction.
Our 500 H2 is already sweeping European streets, so the only question is – will your city be next? Do you need a hydrogen sweeper? If you're still wondering and you would like to learn more about the technology and the performances of this sweeper, you can contact us either through our contact forms here at www.greenmachines.com or you can send us an email at office@greenmachines.com. We'd be happy to help you and your city go green!