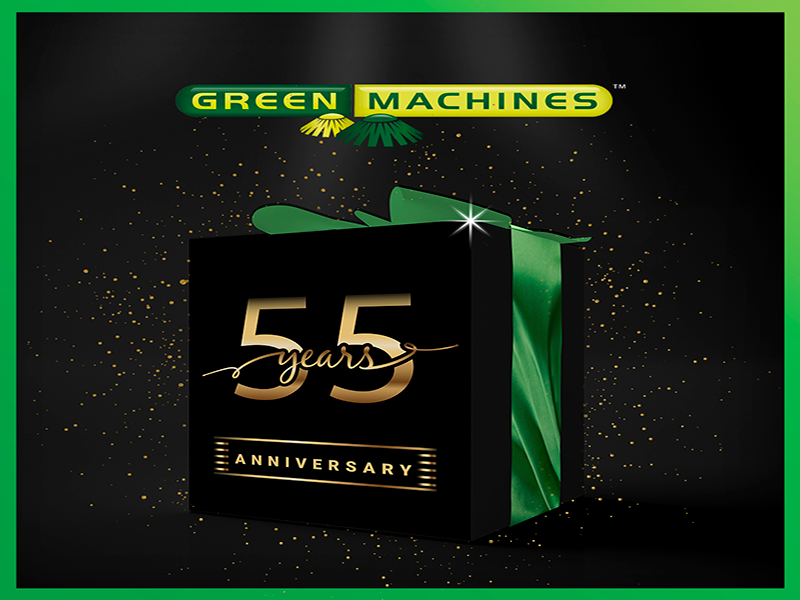 Although this year has been difficult for us as it has been for everyone around the world, we are happy that we celebrate our 55th anniversary despite all the hardships and challenges 2020 has thrown our way so far. This year will surely be remembered for the many sad and distressing events, so we wanted to spark a little joy by recalling the good things from the past years. We are grateful to be still standing here today, prepared to tackle any challenge and work hard on delivering even better results and better solutions that will help our people and our planet.
Green Machines is one of the oldest manufacturers of sweepers, originating in Scotland. Our first machine was a walk-behind machine that looked like a huge vacuum machine for outdoor use. Back in the day, design was not that important and it was not until we developed the 400-series model that we took physical appearance into account. We launched the first 400-series model back in 1992 and it was that innovative and futuristic that it was even featured in Star Wars: Episode I – The Phantom Menace.
Later on, we launched the first high-speed 1m3 machine and we revolutionized the market by introducing small, fast-moving and agile sweepers while large machines with all their drawbacks were still used to clean the streets. Some years later, we produced the world's first-ever fully electric sweeper – our lithium-ion powered 500ze model. Another zero-emissions sweeper that is truly remarkable, compact and easy to operate is our GM1ze. It is completely electrically-operated and we like to refer to it as our energy-saving marvel.
We were also the first with a patented water-saving atomizer on our sweepers that reduces water consumption by more than 70% and you can see that technology in our fine dust hunter and gatherer – the superb 636 model. It is so unique and innovative that it played its own role in the third film from the Men in Black series.
In October 2019, we made our new ownership official and we became Green Machines DOO Veles. BRAKO, together with a former director at Green Machines, decided to establish the new company and bought the worldwide right, title, and interest in the Green Machines brand, trademarks, patent rights, drawings, construction data, product manufacturing ownership, marketing materials, domain and customer lists along with the Green Machines Aftermarket Business. BRAKO is highly experienced in manufacturing, serving many highly esteemed customers in various markets (machinery, medical devices, wire, hydropower installations, foundry) and has been producing Green Machines' products for 3 years now.
Each year we strive to do better and bring new innovations to the market that we usually present at the biannual IFAT fair. Even though this year we were not able to present our new technology at the IFAT fair, we are more than happy to announce that we will celebrate our 55th anniversary by introducing an innovation that will be a real game changer on the market.
We are looking forward to developing and producing even better and more sustainable machines combined with excellent performance for a better world. Subscribe to our social media channels and check our news section regularly at www.greenmachines.com since we plan to stay ahead of the game and offer you even better solutions. Join us in building a sustainable future together.