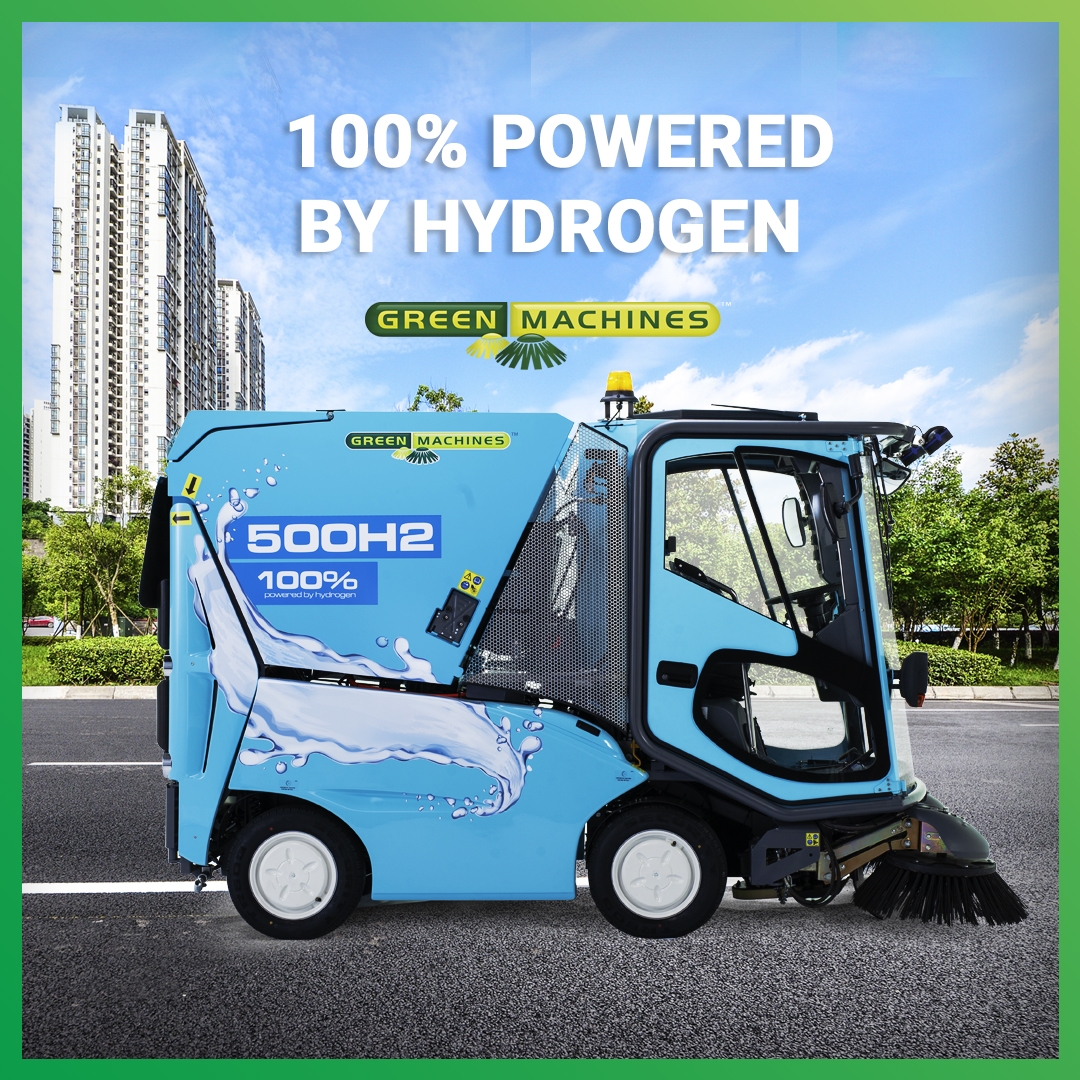 The 500 H2 is the world's first hydrogen fuel cell sweeper, 100% powered by hydrogen and a real head-turner! But let's talk about the advantages of having a GM 500 H2.
Our 500 H2 was built based on its predecessor 500ze which was the world's first-ever fully electric sweeper. When we created it, the 500ze represented a whole new generation of Li-ion electric street sweepers. It was the first vacuum street sweeper powered by lithium-ion as opposed to lead-acid batteries. This was a huge step forward in the industry, but we always tend to improve our solutions. GM 500 H2 is another breakthrough that is the result of our continuous efforts to reduce our own impact and to help our clients to reduce their carbon footprint, too. If you are satisfied with the 500ze, we assure you that you should take the next step – go completely green and switch to hydrogen power. The 500 H2 offers more flexibility and efficiency since you can refuel it in a matter of minutes while the battery takes hours to recharge. It allows you to use hydrogen power whenever you want, wherever you want, and for as long as you want. You get the same quality standard with improved features – the H2 smart street sweeper is the greenest solution since the only by-product of its usage is water.
The 500 H2 is compact, safe, sustainable, and moves swiftly at 25 km/h. It offers a superb ergonomic design and superior cleaning and dust control with two independent brushes for maximum cleaning efficiency. It is almost invisible to the pedestrians since it is so compact and so silent that you'd have trouble hearing it even if the whole city is silent. The presence of this machine in your city is the biggest proof that you care about the environment and the health of your fellow citizens since it literally makes your city cleaner and greener. Only one GM 500 H2 can make a difference compared to 2m3 fossil fuel sweepers because replacing a 2m3 sweeper with our 500 H2 removes CO2 emissions equal to 50 cars! Cities all over the world, led by the Kyoto initiative have signed up to achieving significant carbon reduction challenges and with innovations like th­e 500 H2, we are confident that we all can provide a new perspective to governments and authorities all over the world looking for innovative solutions to help achieve their targets. And because not all cities already have an H2-infrastructure, we have come up with a great solution for every city that wants to be smart and­­ wants to go green! Besides the 500 H2 model with the fixed hydrogen tank, we offer the model GM 500 H2 with an H2-POD cartridge system, with replaceable pods that can be easily used in the cities without hydrogen stations or where the transit distances are simply not feasible.
These are only some of the advantages of having a GM 500 H2 in your city, but feel free to contact us here at www.greenmachines.com and request more info, because we are more than happy to help your city go green!