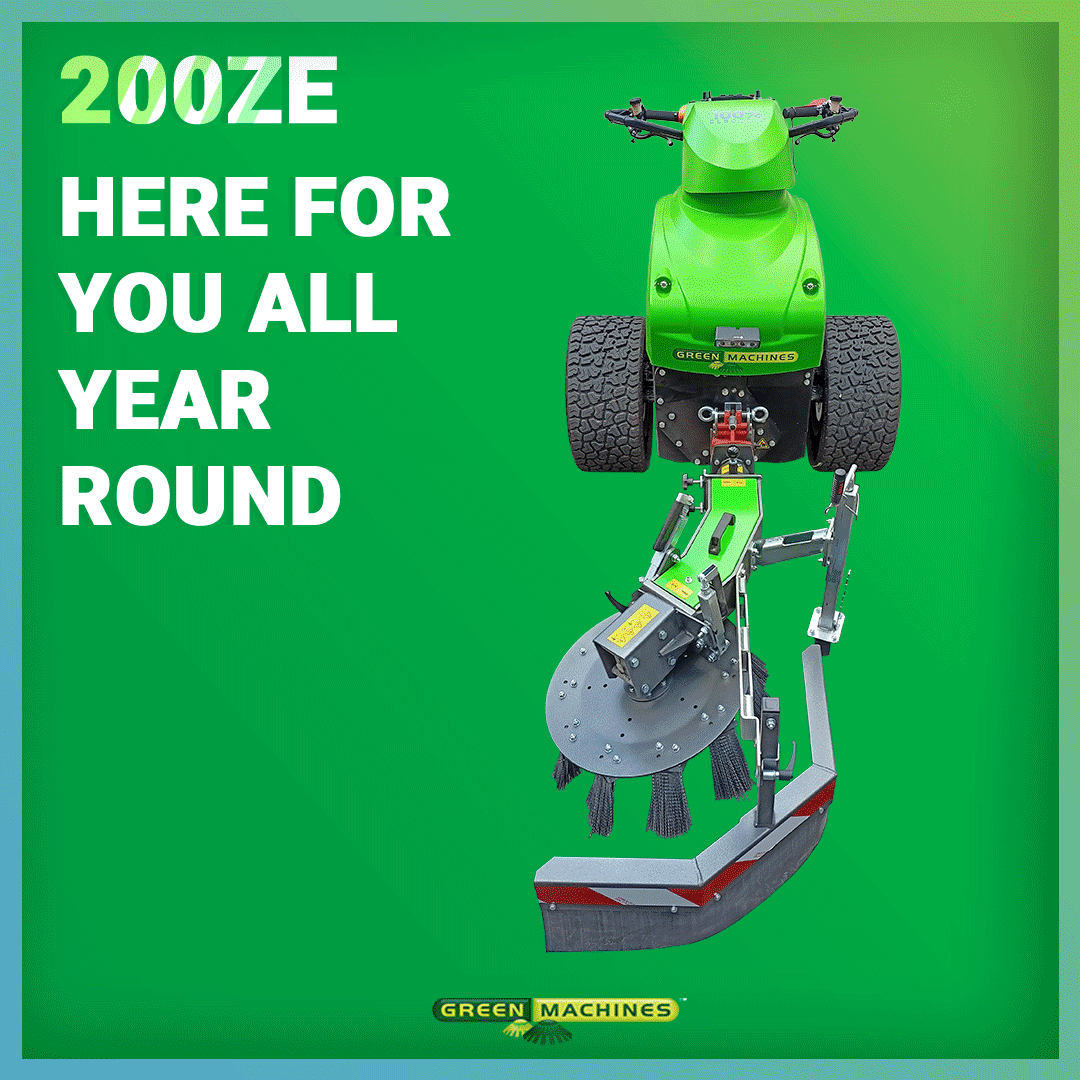 7 months ago, we introduced you to our latest innovative product – the fully electric two-wheel tool carrier 200ze. This amazing product is atypical for our portfolio because it is not a sweeper per se, but it can be anything you want, including a sweeper! 😊 We already bragged about our 200ze's universal attachment adaptor in the front, but now we're elated to present something more. Keep reading if you want to meet the attachments offered with our 200ze! 😊
Before we discuss the attachments separately, let us remind you why this machine is so great. Not only is it 100% electric, but you can also choose between several different battery options that offer one full day or several days in a row operating time! Plus, you can use it to charge your other e-tools. Additionally, you can use it anytime you want, no matter the weather, both indoors and outdoors. It operates with zero noise, zero emissions and zero vibrations. The most amazing feature of the 200ze is that you can add many different attachments already present on the market and turn it into a sweeper, leaf blower, rough cutter, snow plough, lawn mower… anything you want. The attachments are already out there, it's the 200ze that was missing, but right now we offer you five incredible attachments that you can order with your 200ze! These 5 attachments cover all 4 seasons and we are just getting started! 😊 The attachments we currently offer are:
Sweeper with 3rd brush and collector (spring, summer and fall)
Weed brush (spring, summer)
Salt spreader (winter)
Snow plough (winter)
Leaf blower (fall)
Scroll down to see some photos we took of our new attachments! The universal attachment adaptor in the front allows you to change the tools easily and without any delays. You can go from sweeping to weed brushing or leaf blowing easily and for as long as you need!
We hope that this brief blog helped you meet the attachments offered with our 200ze and provided you with enough info to decide whether the 200ze is your perfect machine. You can always check out the product section here at www.greenmachines.com and get more info about this machine and our eco-friendly sweepers or you can send us an email at office@greenmachines.com and ask us anything you need to know! We would love to help you decide which option meets your needs perfectly, which attachments you might need and how you can order the attachments you want!